Nanotechnologies, Advanced Materials
and New Production Technologies
International Workshop on industrial opportunities
and synergy towards Horizon 2020
Coordinator: S. Cuesta-Lopez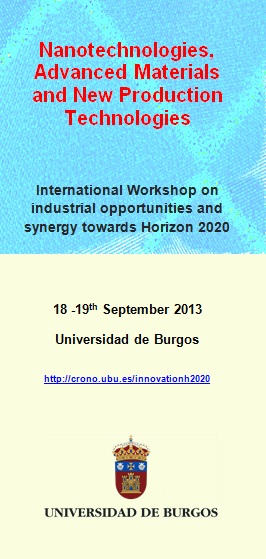 Workshop goals:
Nanotechnologies, Advanced Materials and New Production Technologies Workshop.
Search for industrial synergies towards EU-H2020 programme.
Create industrial networks and contacts in the EU framework.
Find potential clients and markets for technologies.
Show technologies, products and exchange experiences.
Venue:
Hotel Abba. C/ Fernán González, 72 09003 Burgos. Spain.

Activities:
Organization of an Innovation Gallery. Posters / Stands and Exhibitors.
Sessions of innovation: exhibition where present products and lines of development (intervention 15/20 minutes per Industrial Stakeholder).
Briefing: "How to develop R & D & I projects in cooperation with research centers / companies in the EU arena".
Session of "matchmaking", Partner search and identification of synergies for those interested.